by Lynn Meyers (guest author) on 15 November, 2010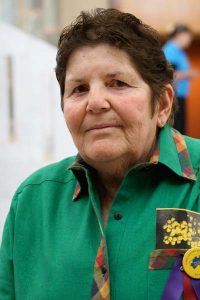 Transcript
My name is Lynette Meyers. I became a ward of the state with the Victorian government in 1959, September 1959. I was there until 1963. I was sent back to my stepfather in Queensland by the Victorian government and, on the recommendations that I have now read in my file, he was the last person I should have been sent back to. So I ran away from him immediately and went back to Victoria. From then on it was a revolving door until I got to about 30. I was in and out of Fairlea women's prison from then right up until I was about 30 on and off over the years.
I got my tattoos on my arms when I first went into Winlaton in the lockup block in Goonyah. The girls used to have Indian ink and to rebel against the screws everybody used to tattoo themselves. I my first one was on my hand and then all over.
They used to lock us up in our quarters, that's all, in our cells. At one stage I was in my cell for three weeks, me and another girl in the X cell. We scraped the bricks away so we could talk to each other. We had nothing in there but the floor. If you wanted to go to the toilet, you used to have to scream out for one of the screws to come and let you out to go to the toilet. They would only come when they wanted to.
What it means to me, it means that somebody is taking responsibility for the cruel things that happened to us in there. The tattoos, the drugs, the hidings, on Sparine and Largactil so we walked around like zombies. If you ever played up you got a needle in the bum by the men and just locked up, you know, solitary.
But also it means to me that I want the government not to let this happen to the young kids that are in the homes now. That is more important. What happened to me and others, we can't do much about. But let's not continue it on. That's what it means.