by Rachael Romero (guest author) on 9 April, 2011
Award-winning film maker and visual artist, Rachael Romero, writes about the image of the knife that was used in a theatre production at the Pines (Convent of the Good Shepherd).
Rachael explains:
Imagery speaks to memory. Artifacts resonate meaning. In the Pines, (Convent of the Good Shepherd) year of 1968 we used this wooden knife in a play held as a charade for Welfare (as if we were provided for culturally). Never mind that there were hardly any books available; newspapers to read, radios to hear or any news crossing the barbed wire fences of our laundry prison.  We were told to offer up our suffering for the saving of souls. I see this knife as a kind of Magdalene  cross we were nailed to. After-all we were stigmatized and a regular cross would have been blasphemy. The knife was also the image of choice  for  home-made tattoo in the Pines;  crudely drawn into cuts on the  the leg in Indian ink–a form of self injury to reify the agony we felt .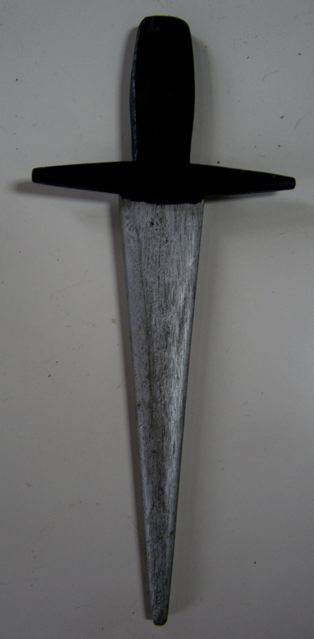 I photographed the second image of my feet "on the cross" eighteen months after I got out. At sixteen–this is how I felt– crucified, but not redeemed from the extra judicial incarceration I had experienced. I had no-one to tell. Everyone looked away, pretended nothing had happened.We have only just begun to break this terrible silence in  "the lucky country" so that other unwanted children will cease to be so savaged.
The knife was used as a prop for the production of HMS Pinafore (image of the programme below), performed by inmates from the Pines. Rachael recalls:
It was directed by Mother Lourdes I believe. I made the drawing and did the scenery and sang in the chorus. I don't remember much about it except that I was always glad to make art instead of working in the laundry.

The welfare workers, priest and family members were invited. It was all a big show to look as if we were being cared for.After the performance  the priest requested that my blonde curls be shaved and presented to him. I refused.