by Adele on 18 November, 2010
Wilma Robb nee Wilma Cassidy held up this napkin in the Great Hall of Parliament House during the National Apology to Forgotten Australians and former Child Migrants on 16 November 2009.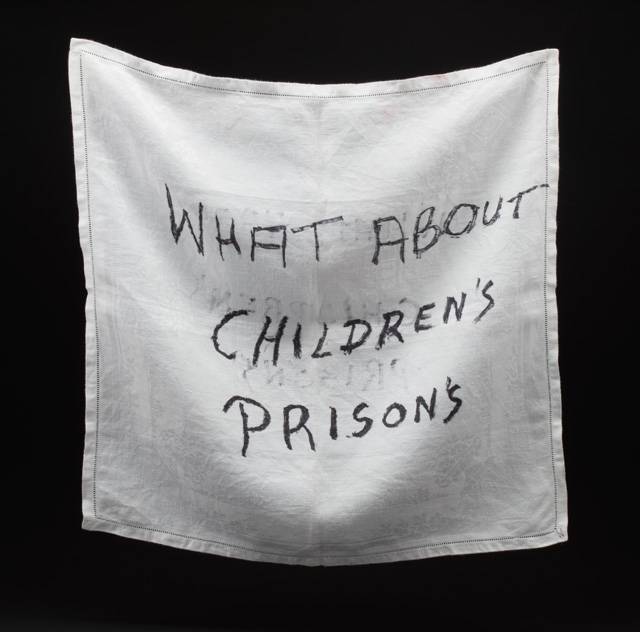 Wilma Robb was first admitted to Dalmar Children's Home, New South Wales, at the age of five when her mother became ill. During her primary school years Wilma was moved within various care settings within her family, foster care and later was committed to Ormond institution for girls as 'Uncontrollable' and 'Exposed to Moral danger'. At the age of 14 she ran away from Ormond and slept in a phone box in Villawood. She was gang-raped by a group of bikies. A few days later she was picked up and admitted to Parramatta Girls Home where she was diagnosed with venereal disease. She was labeled a 'loose girl', without investigation of the circumstances in which she acquired the disease and never talking about her rapes till in her 50s. Her 'unsatisfactory' behavior there led to her being sent to two periods of detention at Hay Institution for Girls.
As a teenage girl in Parramatta, Wilma, had never been charged with a criminal offence, (only a Welfare charge) was treated she believes as a de facto criminal. She was assaulted by staff (one bashing by the Superintendent resulted in her having to receive a full set of dentures at the age of 15 after her face was smashed into washbasins. Girls were internally examined to assess the 'status' of their virginity on arrival to Parramatta girls home and Ormond institution for girls. –. Girls who were defiant received further punishments – solitary confinement and some put on medication with the psychotropic drug Largactil.
Because of her refusal to be broken by the system, Wilma was sent, from the Parramatta Girls Home to the Hay Institution for Girls which opened in 1961-1974 as a maximum security closed institution for girls aged 13 to 18. Girls were sent to Hay despite their having committed no crime and without a legal trial. Girls were never to speak, without permission, or to establish eye contact with anyone ever. This rule was enforced despite the fact that the 'silent system' was outlawed in New South Wales in the late 1800s. Girls endured a regime of hard labor without school education.
The bodies of these 'incorrigible' girls were controlled at all times by the system. Movement was with military precision and governed by a strict regime. Girls could only speak to each other for 10 minutes a day, while maintaining 2m distance; they were forced to sleep on their right side facing the door. Twenty minuet surveillances happened all night. Girls were surveyed 24 hours a day by male staff (who were the only ones with keys to the cells) and personal experiences such as menstruation were public and exposed humiliated and deprived of privacy . Wilma said on a visit back to Hay:
It was very Cruel, inhuman and sadistic. You can still smell, feel and hear the pain in that place still today.
In later life she took up an occupation as a housekeeper to the family of Manning and Dymphna Clark. Manning Clark was the author of the general history of Australia, his six-volume A History of Australia. Manning Clark is described in The Oxford Companion to Australian History as 'Australia's most famous historian'. Dymphna Clark was an eminent linguist and campaigned for the rights of Aboriginal people. Wilma Robb still works as caretaker of Manning Clark House.
The napkin itself is a significant object which holds other stories. It was part of Dymphna Clark's household items originally brought to Australia from Norway by Dymphna's mother Anna Sophia Lodewycz circa 1910. However, enough is known of the life of the Clarks to know that visitors, significant in cultural, political and academic worlds, both national and international, were part of their social life.
At the National Apology to Forgotten Australians and former Child Migrants, Parliament House, Canberra, November 16, 2009.
Prior to the National Apology, Minister Jenny Macklin contacted Wilma asking her to submit her personal history so that it may be considered as part of Kevin Rudd's speech. In her letter to Kevin Rudd, she explained that the Hay Institution for Girls was the equivalent of a colonial jail in its use of silent treatment. Robb was concerned that Rudd's use of the word 'institution' would not cover her prison experience. Robb realized that she may not have a chance to say this on the day, so she grabbed one of Dymphna Clark's linen table napkins, and wrote 'WHAT ABOUT CHILDREN'S PRISONS' in thick ink marker on each side of the napkin. When the moment came, she was nervous about holding it up.
'I felt sick in the stomach,' she told the National Museum of Australia.
To support her, Keith Kelly a former inmate of the equally notorious Tamworth Institution for Boys who was sitting behind her took the other side of the napkin and held it up with her. He would have equal reason to refer to the institution he had been held in as a prison. This impromptu protest sign was one of many items made by Forgotten Australians and brought to the Apology.